Keegan Fong
Tampopo
+
Kitchen Sink Soba
Keegan Fong is the owner of Woon, a homestyle Chinese restaurant in Los Angeles specializing in chewy, wok-seared Shanghainese noodles.




For this first issue of CALIGARI, Keegan was invited to kick off a column dedicated to a classic date night combo: dinner and a movie. Partly inspired by Le Cinéma Club's journal of film lists, where contemporary filmmakers recommend five movies they love, the idea here is for chefs and others working in food culture to recommend a movie and pair it with a recipe, imagining that a friend was coming over to watch the movie together.

Keegan's recommendation:
Tampopo
(Juzo Itami, 1985, Japan)



It's everything I want in a movie. Action, drama, humor, conflict, sex, and best of all, NOOODLLLESS. I can never get over how good the sound design is — the constant exaggerated slurping of noodles and exaggerated sounds of punches during the fight scenes. On top of that, I love the cutaway shots throughout the movie which could all stand alone as timeless photographs or movie posters — the plated bowl of ramen, the oyster in a half shell, the stop watch. Lastly, the style. Every character's style is how I wish I could dress everyday. From Goro's western influence to the oyster diver's scuba masks.

Although the recipe I've provided is not ramen (it's too hard to make ramen from scratch), soba noodles are the next best thing to make slurping sounds to. Soba noodles are quick, easy, and can be prepared in so many ways. I never use the same toppings twice. Hope you enjoy making them as much as you like slurping them.

Kitchen Sink Soba

I call it this because I literally make it with whatever I have on-hand in my fridge or pantry, there really is no set recipe. As long as you have soba noodles, sesame oil, ponzu sauce, and some seasonings (my favorites are shiso, togarashi, and seaweed) then you can add whatever toppings you like.
Mise en place: this is what I could scrap together today. Soba noodles, eggs (medium boiled; if I have the foresight I usually soy marinate them in the fridge for a day first), shiso seasoning, furikake, togarashi, ponzu sauce, sesame oil, red cabbage, seaweed (grinded down with my fingers), pickled ginger, pickled Ume plums. To be honest, I love adding avocado, radishes and eggs if it's for a brunch/lunch kind of deal.
Boil soba for 3-5 minutes.

Strain, and rinse under cold water for 1 minute. Let drain.

Cook cabbage with some sesame oil and ponzu (or soy sauce).
Coat noodles with sesame oil and ponzu before plating: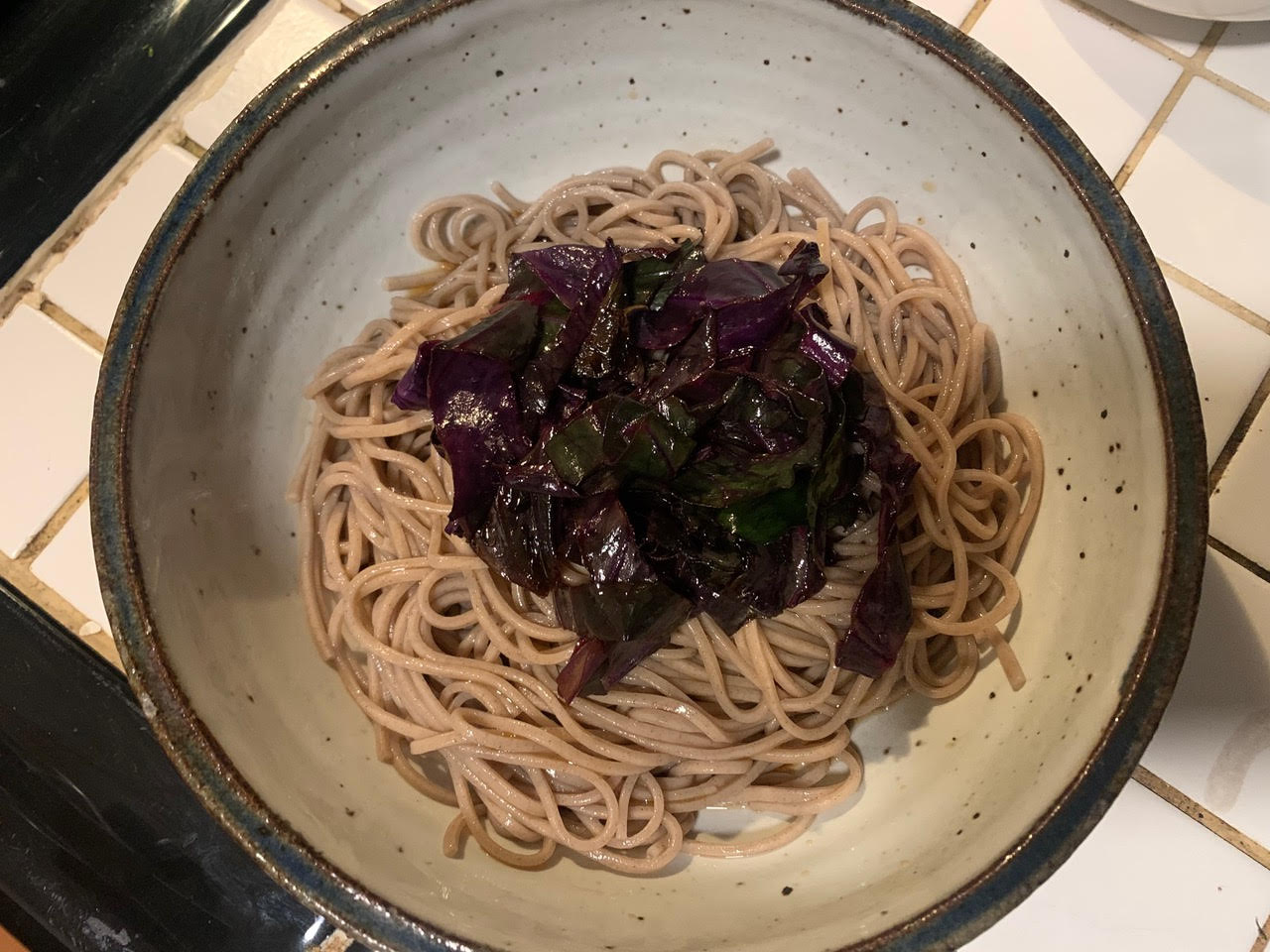 Voila!! The easiest Tampopo meal you could ask for and it's done in less than 10 min. Best enjoyed with a bit of sake! Also, don't forget to slurp it really really loud when watching the movie. It makes it really fun.